PENTICTON
359 DAWSON AVENUE PENTICTON, BC V2A 3N5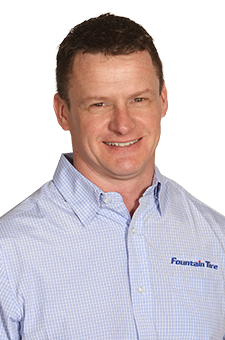 CHUCK THOMPSON
Fountain Tire manager
PENTICTON
359 DAWSON AVENUE PENTICTON, BC V2A 3N5
Reviews
6/1/2017 12:00:00 AM
MICHAEL / BETH CAMPBELL
I had a scheduled oil change and was pleased with the time it took and the service given. I asked them to set my system to return in 7000 km instead of 5000 km
Response:
Thank you Michael and Beth; it was our pleasure. We look forward to serving you in the future.
5/13/2017 12:00:00 AM
MICHAEL / BETH CAMPBELL
This store has a very friendly staff and they are very professional in their work.
Response:
Thank you for taking the time to give us your great feedback Mr. Campbell! Always a pleasure looking after you!
5/12/2017 12:00:00 AM
Anonymous
Great service
Response:
Thank you so much for the review! We look forward to seeing our anonymous customers again soon. ;)
3/28/2017 12:00:00 AM
MICHAEL / BETH CAMPBELL
I brought my vehicle in for a dashboard light repair. After completing exhaustive tests, it was determined that it would be necessary to go to the dealer for their computer diagnosis. After the time spent looking for a fix, there was no charge! A pleasant surprise indeed.
1/26/2017 12:00:00 AM
BARBARA RYAN
The service was impeccable they checked everything out for me and I appreciate them letting me know what needs work on in the near future.
Response:
Hi Barbara, Thank you very much for your review. We really appreciate your support!
11/26/2016 12:00:00 AM
JEFF VANOYEN
The service was prompt and professional. The staff were funny and good to talk to while waiting. I would recommend if I lived near there.
11/24/2016 12:00:00 AM
Anonymous
Fast service
11/21/2016 12:00:00 AM
Anonymous
Very helpful, efficient , job well done . Always like to deal with Fountain Tire :) Thankyou again
11/1/2016 12:00:00 AM
RICK SHILLITTO
Fixed a past communication problem, and alerted me to some work from another source that wasn't done properly which helped save additional problems. re: Transmission.
10/30/2016 12:00:00 AM
DELLENE LEWENDON
Always friendly, efficient and accommodating!
10/20/2016 12:00:00 AM
Anonymous
Great service
9/29/2016 12:00:00 AM
Anonymous
Always informative, respectful, professional and ont time! I trust the people at Penticton Fountain tire!
9/27/2016 12:00:00 AM
JOHN MCLELLAN
zero marks for this shop. i purchashed my tires on the langley by-pass a few months ago. maby almost 6 months. regaurdless i needed them re-balanced after a trip to penticton. i went into the penticton store and had them balanced. when she asked me for 107 dollars i asked why, i said i bought them at fountain in langley. i thought i could get them redone at a diferent store. i guess not. intead of calling criss in langley they argued with me and said i need to pay . i will never go to fountain tire penticton again . i have a fair amount of influance in penticton i can share the word of this situation. when i worked for fountain tire the customer was allways right . i think times have changed
Response:
Hello John, I am extremely surprised to receive your email this morning. I dealt with this personally the very next day and sent the credit to the Langley store which they were suppose to give to you!! If this did not happen please call me asap. The reason for us billing you was because on your tire purchase at the Langley store there was no vehicle info on your invoice. Therefore we could not find the history in our computer. Chris did email the invoice number on the following business day, and at that time we did credit your entire purchase. Moving forward if you have not gotten your money back please call me asap and I can call the other store. But as far as we are aware, the other store gave your money back. Is this not correct?? Please acknowledge whether you got your money back or not?? regards, Scott
8/18/2016 12:00:00 AM
BARBARA RYAN
I have found that they go the extra mile for their customers and answer all the questions being asked.
7/23/2016 12:00:00 AM
BARBARA RYAN
Staff was quick and courteous and remedied problem right away. Always a pleasure to have service done there.
7/18/2016 12:00:00 AM
GORDON FREHLICH
Service was quick and efficient
7/11/2016 12:00:00 AM
BOB SHERRY ANTONIUK
Very friendly
6/16/2016 12:00:00 AM
DAVID BURNS
Great experience as always
5/27/2016 12:00:00 AM
MICHAEL / BETH CAMPBELL
The service was excellent and friendly. Our car was ready to pick up at the promised time and the price was right. We will certainly use Fountain again.
4/29/2016 12:00:00 AM
BARBARA RYAN
The staff at Fountain Tire goes the extra mile they let you know what they find out about your vehicle when it is in for some work to be done and they find a problem with something else they make sure you are aware of the problem and they shuttle you to where you have to be while your vehicle is being worked on. They make you feel like your part of their family they are the BEST

Auto Services
Oil And Filter Change
Seasonal Maintenance Package Includes Oil Change
Tire Replacement
Balancing And Tire Repairs
Batteries
Brakes
Flat Repair
Heating Cooling
Seasonal Tire Changeover
Shocks Struts
Transmission Services
Tune Ups
Wheel Alignment
None
Other (please give details in the space below)