THUNDER BAY
788 CENTRAL AVENUE THUNDER BAY, ON P7B 6S3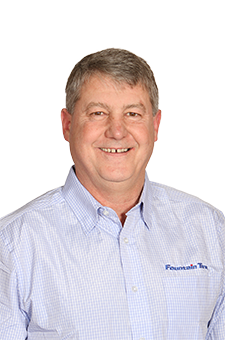 DARCY HUNTER
Fountain Tire owner
THUNDER BAY
788 CENTRAL AVENUE THUNDER BAY, ON P7B 6S3
Reviews
10/6/2016 12:00:00 AM
Anonymous
Excellent customer service from drop off to pick up. Very professional and accommodating.
9/28/2016 12:00:00 AM
ROMAN DANIW
Very Professional, on time and friendly.
9/13/2016 12:00:00 AM
BARBARA BEITZ
I AM VERY PLEASED WITH THE SERVICE I GET FROM FOUNTAIN TIRE... YRS AGO I HAD PROB WITH ANOTHER CAR .. THE TIRE WAS GOING FLAT ALL THE TIME BUT AFTER TALKING TO A SERVICE ADVISER THEY SAID MY PROBLEMS WERE THE RIMS NOT THE TIRE SO I GOT STEEL RIMS PUT ON AND NO PROB WITH THE CAR.. ANOTHER TIME I HAD A NAIL IN ANOTHER CAR AND ITS BEEN FINE EVERY SINCE SO IN THE FUTURE I WILL GO TO FOUNTAIN TIRE I TRUST THEIR SERVICE BARBARA BEITZ
8/20/2016 12:00:00 AM
GREG MAYO
Had two places tell me my truck wouldn't fit on their alignment rack, Ford and kal tire, Chris MacDougall from fountain tire in Thunder Bay Ontario said no problem. Got the truck done without issue. I mean Ford couldn't fix my Ford. I'd like thank Chris and the staff there. Good people.
7/18/2016 12:00:00 AM
Anonymous
Fast, friendly, and efficent service. I bring all my vehicals to Fountain Tire!
7/1/2016 12:00:00 AM
Anonymous
Staff was friendly both over the phone and in person. The quote I was given was in line with the final price which made me happy and I was assured the parts used were top quality. I've used fountain tire outside of Ontario and was pleased with their service hence why I went to this location. The cost of an oil change on my car is usually around $80 or less. Fountain tire was nearly $100, a little extreme I found. Also I booked in for an oil change and other service For 0800hrs and was told the oil change was 1.5 hrs and the other service 1.5hrs of labour. That's 3 hrs total I'll give an extra .5 for getting parts. In total it should have been around 3.5-4 hrs instead it took nearly 7 which was frustrating. It seemed that booking in the appointment at 8 was pointless. If it's going to take all day just tell me instead of randomly saying about 4 hrs. I wasted an entire day waiting.
6/22/2016 12:00:00 AM
DAVID KEITH SPRING
Our vehicle was taken in quickly and efficiently, the work was completed in the time frame promised and we were informed of all changes that required additional work/cost prior to the work being performed. We would certainly recommend Fountain Tire to our friends and family, and we will definitely return as customers.
6/17/2016 12:00:00 AM
BRUCE DAHL
Fantastic Experience
6/19/2016 12:00:00 AM
Anonymous
I keep coming back to Fountain Tire because I receive great service at fair prices.
6/15/2016 12:00:00 AM
ALEX CRANE
service was great
6/8/2016 12:00:00 AM
Anonymous
Was great! Fast and affordable!
6/2/2016 12:00:00 AM
Anonymous
Friendly and helpful staff, took time to explain issue with alignment on my Honda S2000.
6/2/2016 12:00:00 AM
Anonymous
The customer service with Fountain Tire was fantastic. I received same day service. I came in to get the treading checked on my tires... and within 20 mins My car was up on a hoist and I was getting new Tires put on my car. Thank you for the peace of mind I now get driving my vehicle. As a single mother of 2, It is a great feeling knowing I have peace of mind regarding my tires when the three of us go on road trips and drives. Thank you.
5/28/2016 12:00:00 AM
Anonymous
Thank you - great service!
5/25/2016 12:00:00 AM
DAVE JENSEN
Chris was awesome. Had me in and out for winter swap in a flash!
5/17/2016 12:00:00 AM
BRUCE DAHL
I was Absolutely Satisfied, with the Personal Service I received and the Quality of the Workmanship, Chris McDougall was extremely Helpful and Knowledgable. They took their time to get the Job done right the first time. I would highly recommend Fountain Tire to My Friends & Family and anyone else looking for great Professional service. Thank You very much.
5/11/2016 12:00:00 AM
TOM PARADIS
The guys at Fountain are GREAT!!!
5/6/2016 12:00:00 AM
Anonymous
Service was fast and friendly
5/3/2016 12:00:00 AM
TITO CASTELLANI
Always excellent service!
5/3/2016 12:00:00 AM
Anonymous
Although it was only an Oil Change and Tire Rotation, it was "on time" and "as quoted", .....no surprises. I was offered a ride to work, (that I turned down),....all in all, I am Very Happy with the friendly Staff and the Excellent Service I have come to expect at Fountain Tire.
4/24/2016 12:00:00 AM
Anonymous
Great, quick service and very polite staff.
4/23/2016 12:00:00 AM
Anonymous
Staff are very helpful & courteous.
4/21/2016 12:00:00 AM
Anonymous
Good prices, good service, friendly staff.
4/26/2016 12:00:00 AM
DAVID KEITH SPRING
Quick, efficient and friendly service.
4/19/2016 12:00:00 AM
Anonymous
Always had a great experience dealing with fountain tire
4/17/2016 12:00:00 AM
RAY MYLLYNIEMI
Technicians are very thorough. Very informative and trusting staff.
4/15/2016 12:00:00 AM
CHRIS COULTER
The staff were extremely helpful, friendly and professional. My original quote was from Nicole, but Dan helped me on the day of purchase. Both were really helpful, but Dan hit it out of the park with his advice and service. Thank you Dan!
Auto Services
Oil And Filter Change
Seasonal Maintenance Package Includes Oil Change
Tire Replacement
Air Conditioning
Balancing And Tire Repairs
Batteries
Brakes
Electrical
Exhaust
Flat Repair
Heating Cooling
Heavy Duty Truck Alignments
Seasonal Tire Changeover
Shocks Struts
Transmission Services
Tune Ups
Wheel Alignment
None
Other (please give details in the space below)