BURNABY
5850 KINGSWAY BURNABY, BC V5J 1G9
BURNABY
5850 KINGSWAY BURNABY, BC V5J 1G9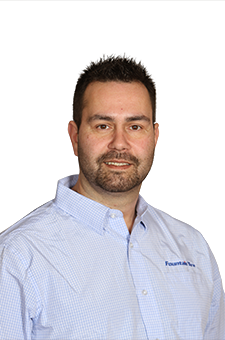 NELSON CORDEIRO
Fountain Tire
Reviews
8/10/2016 12:00:00 AM
KATHRYN BOBICKI
They are always helpful and inform what need to be fixed first or down the road.
8/3/2016 12:00:00 AM
Anonymous
Had called several other tire companies to get availability of specif tire and costs. When I spoke to Nelson he said it was available and could be installed that afternoon. I was going camping so I really needed the tire. Once I got there he made a call and then said it wont be in till Thursday (I was there on a Monday). Since I did not have the time to go back and fourth I just paid for it. It was $50 more than Canadian tire. No one called me Thursday the day it should be there but got the call on Friday. When I picked up the car and eventually got home, I noticed several new scratch marks on my rim. Most likely from yanking it off the old tire to replacement. Regardless didn't want to go back anymore. Positives were - one of the technicians came to help and put air on my spare tire and was very friendly. Overall staff was decent and facilities clean.
7/31/2016 12:00:00 AM
EMMANUEL SERBAN
Very good service, transparent and effective.
7/30/2016 12:00:00 AM
KEN HEATLEY
I have received great service from Max and Moe for many years, and always recommend them.
7/28/2016 12:00:00 AM
KEVIN LEUNG
Excellent service
7/28/2016 12:00:00 AM
Anonymous
Fountain Tire Team Members are courteous, efficient and friendly. Everyone seems to be very knowledgable and if they cannot assist an issue, they promptly refer you to an expert.
7/24/2016 12:00:00 AM
JUDITH SAWASY
The staff and services at this location were phenomenal! I will buy all tires at this store.
7/21/2016 12:00:00 AM
EDWARD ALLEN
Prompt honest service! They were recommended to me by one of Burnabys top auto body shops -- so I tried them and couldn't be happier! I'm very careful who services my truck and used to only go to dealers but they have changed my mind!!!
7/20/2016 12:00:00 AM
RICK INGLIS
I always get great service here, and am treated like a VIP! Nelson takes a personal interest in making sure to communicate with myself and the staff regarding my issues. (I have a 1990 vehicle, a limited budget, and eventually will replace it, so sometimes the repair is necessary, and sometimes not.....) Nelson gives me excellent advice on what the priorities are, and tries to minimize my expenses whenever possible, while making sure safety issues are taken care of. All the staff are courteous and helpful as well.
7/15/2016 12:00:00 AM
CLAUDIO CANOSA
Fountain Tire in Burnaby needs to be a little more careful. I brought my trailer tires in to be replaced. They replaced the tires with tires with the wrong load rating. I noticed it after I drove my trailer with my family all the way up to Whistler. Lucky nothing went wrong. So I had to go back and get them replaced. I never got a sorry from them and they charged me $63.00 for the difference. Very disappointed.
7/15/2016 12:00:00 AM
RITA ROBINSON
I drove in with a brake problem, and they took me right away. I was surprised as there was quite a few cars outside. I was shown what the problem was and given a detailed invoice as what should be done. Everything was explained to me. First time here but I felt very confident they would do a good job, which they did.
7/12/2016 12:00:00 AM
Anonymous
I was dissapuinted that the staff didn't make sure the product they quoted me was in stock. But they did move quickly to fix this. I need another experience to see if the service improves, and then I can make a better judgement.
7/11/2016 12:00:00 AM
Anonymous
Max and all the employees were friendly and helpful. I would definitely recommend going there for tire needs
7/11/2016 12:00:00 AM
ALICIA KONECHNY
Great customer service. Everyone I dealt with at this location was incredibly friendly. They made sure to update all my info so that they could keep an accurate record for any future visits. I'd definitely come back again.
7/6/2016 12:00:00 AM
MIKE MOREE
Service and advice was great very helpful patient and understanding with my questions.
7/6/2016 12:00:00 AM
Anonymous
My punctured tire was fixed promptly and the friendly service was appreciated.
6/30/2016 12:00:00 AM
JUSTIN BURFORD
All around great people, good service and efficient work . Thanks guys :)
6/25/2016 12:00:00 AM
ALAN SEARLE
Made an appointment and when I got there early they took me right away.
6/23/2016 12:00:00 AM
GITTA NIEK
Great customer service by Max and Moe. Thanks again.
6/22/2016 12:00:00 AM
Anonymous
great service and staff
6/19/2016 12:00:00 AM
TOM HOCKER
Great service very satisfied
6/19/2016 12:00:00 AM
Anonymous
Max was great- very helpful, accommodating and friendly! The two shop mechanics that I met were also very friendly.
6/17/2016 12:00:00 AM
CAMERON MCMORRON
Can not say enough good words to describe how I was treated. Even after asking for additional stuff to be done all I got was " no problem". I was early and same thing no extra waiting to do they serviced my vehicle with professionalism and had me out of there within the time they said they needed my vehicle ( even a bit before)
6/14/2016 12:00:00 AM
Anonymous
Fountain tire was awesome. I had an appointment for a Wednesday, but my car broke down after work on the Friday before. Nelson and Max squeezed us in on Saturday and fixed the car and taking care of the work I was going to do on the Wednesday. These guys are great. We told Nelson we were contemplating getting winter tires for next winter. He told us to wait for the 4 for 3 sale in the fall. We have been bringing our vehicles to Fountain Tire for many years because they do good work, we them, and we trust them. We won't go anywhere else.
6/12/2016 12:00:00 AM
DAVE SOMERFORD
We have been repeat customers for 1/2 dozen years and in general I have not been as pleased as I might have hoped. I have been in on a Saturday and there always seems to be limited staffing and I have been told that it will be at least until Monday. In this day not being open on a Sunday is a problem. I have found a competitive shop, open on a Sunday and much more accommodating. I will not be back to Fountain, I need service when it is convenient for me, not the tire shop.
6/11/2016 12:00:00 AM
MARY RINGWALD
We were in a pinch with a flat tire and limited time for repair. Googled the closest tire repair near our hotel and called Fountain Tire. They were ready to service the flat upon arrival while we left for coffee and after about 40 minutes the repair was done! The service manager and mechanic were friendly and knowledgable and the facility modern and clean. A irritation with a flat tire turned into a good thing. Thanks! ??
6/8/2016 12:00:00 AM
Anonymous
First time at Fountain Tires for oil change and maintenance, and was very pleased with the service. Everyone at the Burnaby Fountain Tire was very helpful in answering questions, courteous, and professional.
6/4/2016 12:00:00 AM
Anonymous
Thank you for squeezing me in. You helped me with get my vehicle back on the road quickly so I could use it right away.
6/1/2016 12:00:00 AM
Anonymous
I had a very good experience dealing with this branch. I didn't actually come into but right away, more to get prices and decide. The tires that I purchased All Terrain tire, I was still contemplating between all season based on reasonable price and warranty. I found most all season tires were given a tread warranty of 100-115000 km. All terrain times from all its competitors was mostly 80000 km to no tread warranty. The Goodyear wrangler all-terrain adventure w/Kevlar I found was the only warranty that was given 95000 km. I was leaning towards all terrain and the price was comparable with the best tread warranty
5/29/2016 12:00:00 AM
Anonymous
Quick response, great service.
5/28/2016 12:00:00 AM
Anonymous
Fast and efficient. Took the time to answer all my questions
5/27/2016 12:00:00 AM
TREVOR DAVIES
Awesome service. Staff worked quickly and at a very high level.
5/26/2016 12:00:00 AM
Anonymous
excellent as usual
5/26/2016 12:00:00 AM
RASHA HODALY
I dealt directly with Nelson and he was great. I needed new tires and he made the effort to understand my driving habits and what is best meets my needs. When I took the car in they were ready for me and had it done on time. I've been going there for years and I am sure I will continue to do so.
5/26/2016 12:00:00 AM
KATHRYN BOBICKI
They are very efficient and work on a schedule repair plan with me. They also phone around to get the best prices for parts.
5/25/2016 12:00:00 AM
KEN ENG
Good service. I do not feel like I am being ripped off like some other places.
5/25/2016 12:00:00 AM
HENRY YEUNG
Excellent customer service. Very friendly and helpful. Definitely come back again.
5/22/2016 12:00:00 AM
TONY LAI
Surprised the battery needed to replaced, waited for 2 hours from 8:30am til 10:30am. Would be nice if it takes within an hour.
5/19/2016 12:00:00 AM
DAVID LITTLE
Busy Shop, Nelson and his staff where very good to deal with very happy with the Eagle Sport tires. Programming the tire pressure sensors was expensive for a few minutes work
5/16/2016 12:00:00 AM
Anonymous
Great service & staff.
5/16/2016 12:00:00 AM
Anonymous
Best customer service and excellent service for your vehicle - would recommend anytime
5/16/2016 12:00:00 AM
RICK STANGELAND
Great service and customer experience.
5/13/2016 12:00:00 AM
ALAN SEARLE
Great service and friendly staff
5/12/2016 12:00:00 AM
Anonymous
Great prompt service at a great price.
5/10/2016 12:00:00 AM
JOHN BRUNSTEIN
Reliably good service work. Have taken several vehicles to this specific Fountain Tire over several years. Always found good work done at reasonable price, no unneeded work done, good communication on options for any service where relevant. Have reccommended them to several friends needing service.
5/10/2016 12:00:00 AM
Anonymous
The service was great, the part needed had to be ordered, but that was the only issue that I had.
5/8/2016 12:00:00 AM
Anonymous
Great, as usual.
5/5/2016 12:00:00 AM
JUDY DER
We were very happy with the service and the tires. The car handles much nicer, thanks!
5/5/2016 12:00:00 AM
Anonymous
Quick & friendly service and I paid less than my quote said.
4/28/2016 12:00:00 AM
Anonymous
Called in advance for an appointment and they got me in within a day for some brake repairs and a Spring tune-up, oil change, etc. Taking down my info on the phone was done very courteously and efficiently. Dropped my car off at 8:00 a.m. on my way to work, and was called within a couple hours with a thorough update on their findings, and a request for approval for the work to be done. My car was ready for pick-up the same day after work at 5:00 p.m. Staff were all very helpful. They made some suggestions for future consideration and provide some quotes, but I did not feel any pressure at all to be "up-sold" to get new tires, etc. Very courteous, professional and helpful staff. I've been here before and received the same great service, so I'll definitely be back again. Thanks.
Response:
Thank you very much for taking the time to submit your review. We really appreciate feedback from our customers. We try hard to give our customers what they want. Its good to know we are accomplishing this. - Nelson Cordiero, Manager, Fountain Tire Burnaby .
4/28/2016 12:00:00 AM
KARYN NYENHUIS
Nelson is very thorough, honest and a great person to deal with. He isn't the type of business man that does shady deals or charges for unnecessary work. It's refreshing to find someone like him to do business with.
4/28/2016 12:00:00 AM
CHRIS HILTON
I just want to thank Nelson and his crew for the on-going great service I get when I bring my car in. Everything is explained and before work is performed, the costs quoted are the cost paid. Thanks again Nelson
4/26/2016 12:00:00 AM
Anonymous
Courteous and no hassle.
4/24/2016 12:00:00 AM
JOE CIRESI
Although your particular location was excellent, the Vancouver store let us with a poor taste in our mouths.
4/23/2016 12:00:00 AM
DARLENE LYNCH
Friendly efficient service
4/23/2016 12:00:00 AM
MARY GARCIA
Flat tire was repaired in a faster time than predicted. Facility was clean - service was friendly. Thank you for rescuing me so promptly in my time of panic.
4/22/2016 12:00:00 AM
Anonymous
Great service and friendly. Highly recommend dealing with Fountain Tire in Burnaby.
4/20/2016 12:00:00 AM
LU SUN
My hand break was not tightened as usual, and when I was checking out, the guy at the front tried to pass me a radam vehicle key. I knew you guys busy, but I expected you still can offer a high quality work as before.
4/19/2016 12:00:00 AM
Anonymous
Great service even though through a third party.
4/19/2016 12:00:00 AM
CRYSTAL MEYERS
They are very informative and quick. It would be better if they rated the priority of need for the services they suggest. For those who don't know much about cars, its harder for us to judge whether something is very urgent or could be done on the next checkup.
4/18/2016 12:00:00 AM
GEORGE HUTCHINS
Service was great Great communication regarding any issues with my vehicle
4/14/2016 12:00:00 AM
Anonymous
My husband did some price checking, and fountain tire had the best price. We will be back. Their customer service is exceptional. Appointment was quick and on time. Also offer perks at no charge when you purchase your tires from them (changing from winter to all seasons etc.)
4/14/2016 12:00:00 AM
Anonymous
Professional and helpful!
4/13/2016 12:00:00 AM
Anonymous
I took one of my cars' wheel to this shop for repair as I had flat tire. They said " it will takes 2 to 3 hours." After 3 hours I went back one of the service advisor said "it is not ready yet come back in 1 hour." While I was leaving the other show up he said " it is ready, but I don't have anybody to install it for you and You need to wait another 30 minutes or you install it yourself". I installed it myself eventhough there were 2 mechanic in their shop free. They had very bad attitude and it was the worst experience I ever had as my 4 years old daughter got very exhausted.
Auto Services
Oil And Filter Change
Seasonal Maintenance Package Includes Oil Change
Tire Replacement
Air Conditioning
Balancing And Tire Repairs
Batteries
Brakes
Electrical
Exhaust
Flat Repair
Heating Cooling
Seasonal Tire Changeover
Shocks Struts
Transmission Services
Tune Ups
Wheel Alignment
Other (please give details in the space below)