NORTH BATTLEFORD
11101 110 STREET NORTH BATTLEFORD, SK S9A 3S8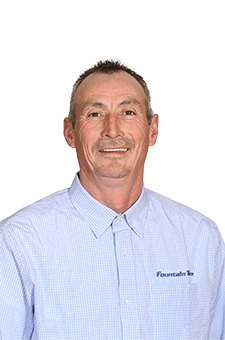 STEWART MARTIN
Fountain Tire owner
NORTH BATTLEFORD
11101 110 STREET NORTH BATTLEFORD, SK S9A 3S8
Reviews
5/3/2017 12:00:00 AM
Anonymous
Fountain Tire has always been five stars with prompt customer service and courteous staff.
3/27/2017 12:00:00 AM
Anonymous
Quick, fairly priced, excellent customer service
3/12/2017 12:00:00 AM
Anonymous
Very impressed with the service and staff
3/10/2017 12:00:00 AM
HENRI J O POIRIER
SERVICE EXCELLENT
3/10/2017 12:00:00 AM
Anonymous
Fast friendly and knowledgeable
12/4/2016 12:00:00 AM
Anonymous
Good service
11/29/2016 12:00:00 AM
Anonymous
I've been fortunate enough to have a few visits to this Fountain Tire location over the last few months and it has always been a great experience. I had two tires fixed before a long trip, purchased a whole new set for winter a few months later, and just recently was in because of weird noises I was hearing when I was driving, which turned out to be an issue with my brakes. Each time they were careful and thorough and always explained my options. I appreciate that they take the time to listen to concerns and focus on making sure my vehicle is running as it should. Stuart, Robin, Shanna, Charmaine and the team have been amazing to deal with and I will continue to go back whenever I need to and will recommend to others as well. Thanks so much for everything you do!
10/28/2016 12:00:00 AM
Anonymous
Efficient, polite and knowledgable staff. Thank you team for fixing my tire
10/6/2016 12:00:00 AM
Anonymous
I've always had an awesome experience at FountainTire in North Battleford. I like being able to look at my options and get a quote online. They've always been great at helping me decide between options after I get the quotes that would be best for my vehicle and what I'm driving on. Service is fast, reliable, and excellent quality. Love the tire rotation and repair policy!
7/20/2016 12:00:00 AM
Anonymous
It's pretty rare you are able to show up on an afternoon and have your tires fixed that day like I did at Fountain Tire North Battleford. Everyone was extremely helpful and took the time to let me know options for correcting my flat tires. I'm excited to experience it again when I go to make my next tire purchase this fall. Ps: their waiting area is fantastically comfortable!
7/4/2016 12:00:00 AM
BARRY HEADLEY
was impressed with entire staff
5/8/2016 12:00:00 AM
TIM CARTER
I really appreciate the ride back to work!
4/19/2016 12:00:00 AM
LEO BRASSARD
Great service and very nice people
Response:
Thank you Leo for your kind words and Im very happy to know that you are happy with the service at our location
4/15/2016 12:00:00 AM
Anonymous
Excellent service, was exactly as quoted, took exact amount of time as they said
Auto Services
Oil And Filter Change
Seasonal Maintenance Package Includes Oil Change
Tire Replacement
Balancing And Tire Repairs
Batteries
Brakes
Electrical
Exhaust
Flat Repair
Heating Cooling
Heavy Duty Truck Alignments
Seasonal Tire Changeover
Shocks Struts
Wheel Alignment
None
Other (please give details in the space below)